Birding in Sierra de las Nieves Natural Park in autumn
Birding in Sierra de las Nieves -in Southern Spain- is an experience not many birders have lived so far. This mountain range is of the three Natural Parks that surround the town of Ronda in Southern Spain. This site is probably going to upgrade its protection status to National Park in the upcoming year and we are pleased to guide bird watching trips to this biosphere reserve.
Autumn is a great time of the year to have a go on our binoculars since it is still not covered with snow. Besides, the days are still quite sunny and invite us to spend a whole day here. Just a few minutes driving from the white town of Ronda we entered the Natural Park and soon penetrated the Spanish Fir level. You may know these Firs (Abies Pinsapo) are unique in the world and reach here great sizes.  Greater spotted woodpeckers, Crossbills and Long-tailed tits accompanied us across the forest level.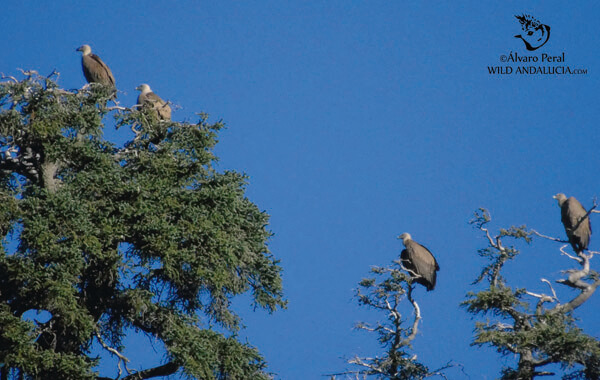 Climbing up we noticed a group of Griffon Vultures enjoying a sunbath on top of the Spanish Firs. We checked them all carefully becasuse a Rüppell's Vulture had recently been reported on this area. As altitude increases, the forest gives room to mountain scrub and junipers. This is very easy to see once we reach the Pilones pass. The picture below shows how the south hills are quite different to the shaded spots:
magnificent Gall Oaks (sp. alpestris) facing south and impressive Firs facing north. This variety of landscape benefits birdlife lving here and we soon it started to show up. Ring ouzels and Alpine accentors made the best of our birding journey. The accentors at the highest summits (Torrecilla peak) were very tame and we could take very close pictures of them. A pair of Red-billed Choughs stayed with us for a few minutes too.
Once we reached the summit the sky was even more clear and we could easily see not just Málaga city and some white villages like Olvera but also the Rock of Gibraltar and even the northern mountain ranges of Africa. These views balanced all the walking up and it is definately worth it.
In summary, a great day out birding with a few good bird sights and impressive ochre-blue-green mountain scenery!
Join us on for birding in Sierra de las Nieves simply clicking here: