There is no better place in western Europe to see numbers of soaring birds on migration than the Strait of Gibraltar. The narrow 14 Km gap between Spain and Morocco acts as a crucial landmark that conditions the flyway of thousands of birds of prey and Storks twice every year.
The bird migration in numbers
Ranking: The Strait of Gibraltar is one of the top five places in the world for its passage of raptors
Species of soaring birds: 30
Raptors passing by: 250.000 - 300.000
Storks passing by: 150.000

Peak migration

: 9000 soaring birds (per peak day):

+3.000 Black Kites
+2.000 Honey Buzzards
+1.000 Booted Eagles
Hundreds of Short-toed Eagles, Griffon Vultures
Dozens of Egyptian Vultures
+ Montagu's Harriers, Marhs Harriers, Sparrowhawks, Ospreys

Average total

numbers on the last years, according to Migres:

White Stork: 150.000
Black Stork: 4.000
Honey Buzzard: 68.000
Black Kite: 170.000 spring, 230.000 autumn
Egyptian Vulture: 3.300
Griffon Vulture: +10.000
Short-toed Eagle: 18.000
Booted Eagle: 26:000
Migratory periods for birds in Tarifa
Here the peak migratory period for each one of the most common birds in the Strait is shown: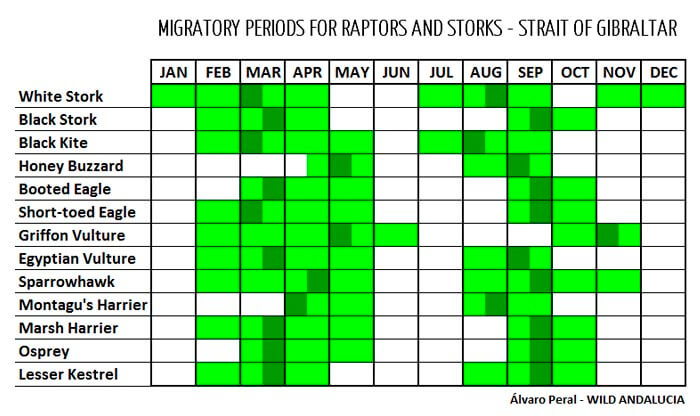 Prenuptial bird migration in the Strait of Gibraltar
Mid February to late March: massive numbers of Black Kites, Short-toed Eagles, Booted Eagles and harriers. March is the best month for passage of birds of prey.
April: Still good numbers of birds can be observed. Griffon Vultures start to arrive. The Honey Buzzards arrive by the end of April
May: Vultures have their peak passage in May, whereas big numbers of the Honey Buzzards cross in the first 10 days of the month
Note: White Stork migration expands from October till as late as May
Postbreeding migration
July and August: thousands of Black Kites and White Storks cross southwards as early as this
Late August and early September: massive movement of Honey Buzzards
September: is the best month in the Strait, with peak numbers of many species: Booted and Short-toed Eagles, Black Storks, harriers, Sparrowhawks, Ospreys and Egyptian Vultures
October: only the last birds pass by. However, short distance migrants (Buzzards, Red Kites) and Griffon Vultures have their peak.

Note: Harriers, falcons and Ospreys don't mind flying longer distances over the sea and therefore don't need to concentrate in the Strait, resulting into difficult monitoring over a wide front
Time of the day
In normal conditions, birds tend to migrate more actively from 10am till 1pm, Spanish time. But note tha late afternoon and episodes of wind calm can also enhace migratory movements.
The bird observatories of The Strait
Although nearly anywhere in an elevated position overlooking the straits can be good for watching soaring birds, there is nice set of migration watchpoints dotted along the coast. On the following map you can click on each one of them to get directions. Please note that some of them can only be accessed from one direction of the road:

Wind considerations
Spring migration
The coastal observatories are best for watching the arrival of birds from the sea. The birds arrive lower, exhausted and looking directly to Spain, a delightful opportunity for wildlife photographers.
Westerly winds: birds drifted eastwards. Thus, best observatories are: Punta Carnero, Fraile, Cerro del Tambor and Rock of Gibraltar
Easterly winds: birds are drifted to the western sector. Best observatories: Punta Camorro, Tarifa, Los Lances and Punta Paloma
Autumn migration
The best sites are the Cazalla raptor watchpoint and the Algarrobo observatory.
Westerlies: are generally better for watching active migration. The birds tend to be high in the air

Easterlies: with strong easterlies the Storks and birds of prey tend to fly lower, thus closer to observatories
Strong winds deter birds from crossing, so high concentrations can be found in the Spanish side of the Strait, as they wait for favourable weather conditions.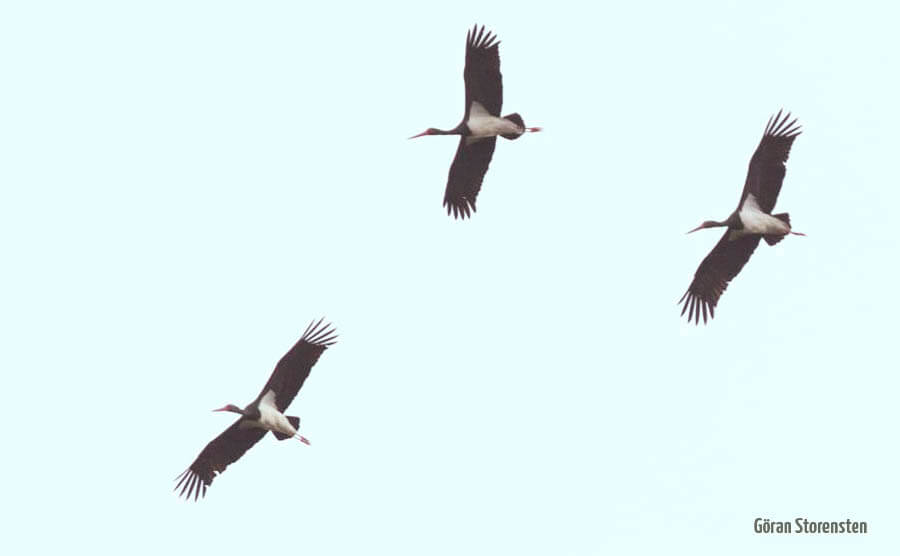 It's been demostrated that birds tend to fly higher with favourable winds, whereas they descend and stay at low altitudes if the wind blows from the opposed direction, in an arduous fight against it. Checking the wind forecast is essential to pick a good day for mig-watching. We recommend the first day of lower wind speed after a few days of strong winds: impressive amounts of birds will cross on that day. It is that special moment of the year that may only happen once in a year!
We recommend checking this following wind forecast for Tarifa.
Join us!
If you'd like to witness the many wonders of the bird migration in the Strait of Gibraltar, we invite you to take a look at our Tarifa Bird Migration Tour. We also run successful birding daytrips to the Strait.