The Iberian Lynx tour of Spain
Welcome to our Iberian Lynx Tour. We guide this safari on the best time to see Lynx. And also on the best place to watch Iberian Lynx: the Sierra de Andújar Natural Park. This is an amazing tour for mammal watching, with good chances of Red and Fallow Deer, Otter being a plus. Emblematic spanish birds such as Spanish Imperial Eagle, Iberian Green Woodpecker, Black Vulture and Iberian (azure-winged) Magpie are very likely.
Our Iberian Lynx Tour will take us to see the most threatened feline in Europe. In Sierra Morena the Lynx (lynx pardinus) feeds mainly on rabbits, that is why we will look for it along scrubland and mediterranean forest. A few years ago, an enormous process of habitat fragmentation limited the Iberian Lynx distribution to mainly Doñana and Sierra de Andújar. Today, with over 400 Lynx running free in Andalucía, we have good chances to find it on its realm of Sierra Morena. Please note that the Lynx is a wild animal and we never guarantee a sighting. As a reference, in 2019-2022 we have seen the Lynx in 12 out of 22 days out.
Day 1: Málaga, Iberian Ibex and Jaén province

The Iberian Lynx Tour starts when we meet in Málaga in the morning. At just one hour drive on the way we will stop to watch Iberian Ibex. Of course there will be some birding on route as we cross the provinces of Córdoba and Jaén. Dinner and accomodation close to Andújar.
Days 2-3: Sierra Morena

The beauty of Sierra Morena mountain range and particularry the Sierra de Andújar Natural Park is unparalleled among all the mediterranean forests. We will spending these two journeys of the Iberian Lynx Tour checking and waiting on different sites for the Lynx. Please note we generally need to stay waiting for it for a few hours, which give also good chances to watch Spanish Imperial Eagle, Iberian Magpie and Iberian Green Woodpecker. We will have great chances to see other mammals, such as Red deer, Fallow deer and wild boar. Otter would be a plus we will target in the morning, fingers crossed. The safari will include a visit to a restricted area of the park. Accomodation near Andújar.
Day 4: Sierra Morena - Málaga airport
Early start for some local birding before travelling back to Málaga airport, where the Iberyan Lynx Tour ends, hopefully with a big smile on our faces. Tour extensions are available on request.
Open group tour dates
9-12 January 2024
16-19 January 2024
Private tour

This tour can also be booked privately for solo travelers or families, with flexible dates
---
Prices
Open group tour: € 950 per person sharing. (Single supplement € 100)
Private tour for a solo traveler: € 1900.
Private tour for 2 pax: € 1250 per person sharing.
Private tour for 3 pax: € 1100 per person sharing.
Private tour for 4-6 pax: € 950 per person sharing
Tour party
Min. 4 - Max. 6 fellow travellers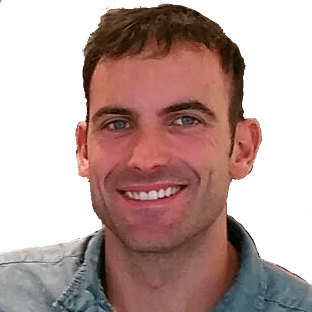 Tour leader: Álvaro Peral
What it is included
- Transfers from/to Málaga area
- Access to private states on one day
- 3 nights accommodation in nice quality hotel or rural house
- Transport in a modern vehicle
- 3 breakfasts, 3 lunches and 3 suppers
- Services of professional birding guide fluent in English
- Accident insurance
- Daily wildlife checklist
What it is not included
- Flights
- Extra drinks and wine bottles
- Lunch on day 4 (if necessary)
- Travel insurance
- Personal costs
Tour pace
Our Lynx safary is a fairly relaxed tour: mostly waiting with some leisurely walking and watching from the van. There are two drives of around 3 hours -with some birding en route-. We'll have early starts everyday and we will have a plentiful breakfast before heading out for the day. Lunch is often presented as a leisurely picnic en route. To see the lynx we will have to wait for it for a few hours at specific locations. We usually return to the hotel at around 7 pm. Dinner is served around 8 pm. The walking is fairly easy and on good paths or tracks. There is just a longer walk of about 1.5 miles. Most of the bird/lynx watching is done within a short distance of our vehicle. Warm clothing and patience is essential.
Only in winter?
The Lynx are always there, but watching them in darkness is quite difficult if not a simple coincidence. That's why we choose winter for this tour, because it is its maximum daylight activity period of the year, which for Spanish Lynx ranges from December to January. The Sierra de Andújar in Jaén province which holds the largest population of this elusive feline.
So we have this tour that maximizes the chances to watch Iberian Lynx in Andújar while enjoying one of the best preserved iberian oak forests and its general wildlife. This is a formidable tour for mammal watching but also for birdwatchers. Plan ahead for next winter and join this magnificent lynx holiday with Álvaro by simply clicking here!
Important: This tour is designed for enthusiastic naturalists who understand about Nature and its whimsical rules. We want a happy crew that is ready to wait for hours even in bad weather conditions, aware that the Lynx may not appear. If you are not this kind of person, this is not your tour.
Target wildlife on this tour
Mammals: Iberian Lynx, Iberian Ibex, Mouflon, Red Deer, Fallow Deer, Wild Boar, Otter, Red Fox, Rabit.
Top Birds: Spanish Imperial Eagle, Black Vulture, Griffon Vulture, Iberian Magpie, Iberian Green Woodpecker, Crag Martin, Hoopoe, Sardinian Warbler, Dartford Warbler, Red-legged Partridge, Little Owl, Kingfisher, Grey Wagtail, Sparrowhawk, Long-tailed Tit, Short-toed Treecreeper, Blue Rock Thrush.
Plants: Arbutus, Cork Oak, Holm Oak, Gall Oak, Gum Rockrose, Rosmarin, Marjoram.
Other: Natterjack Toad, Andalusian Wall Lizard, Moorish Gecko.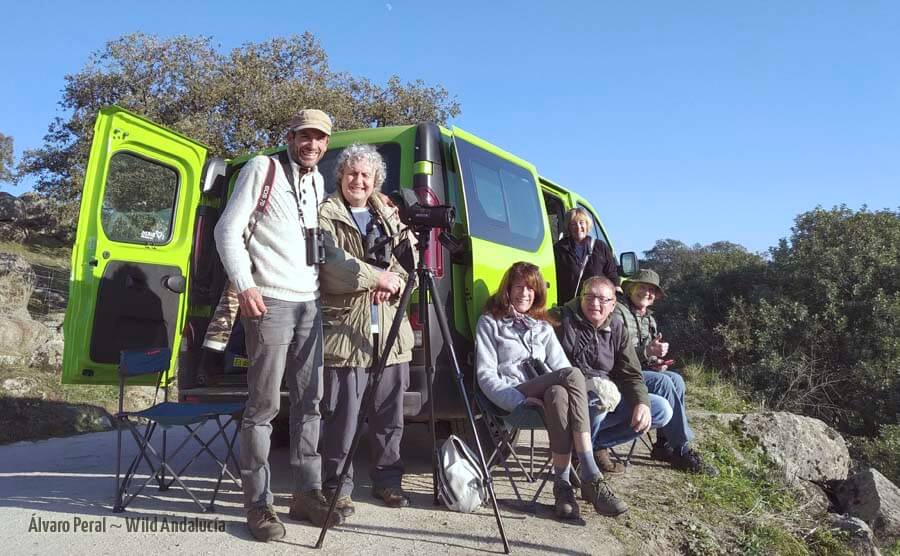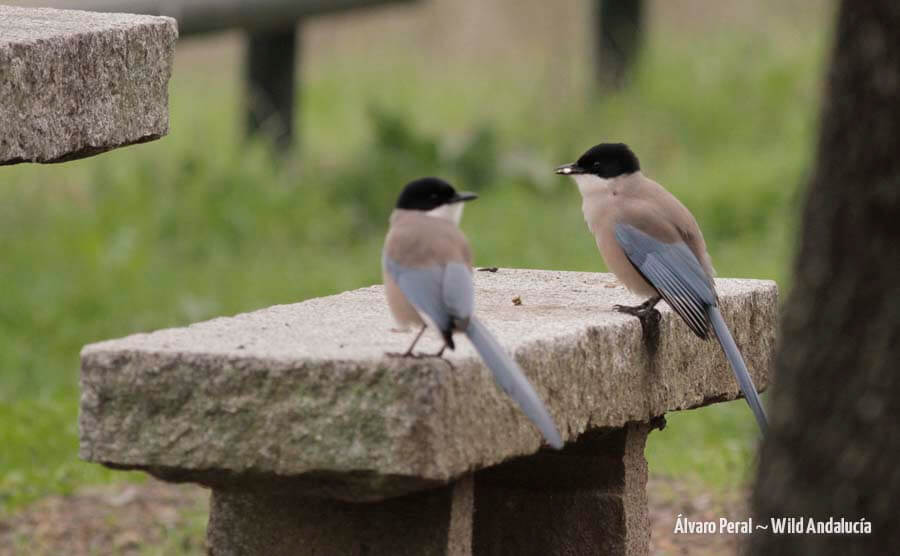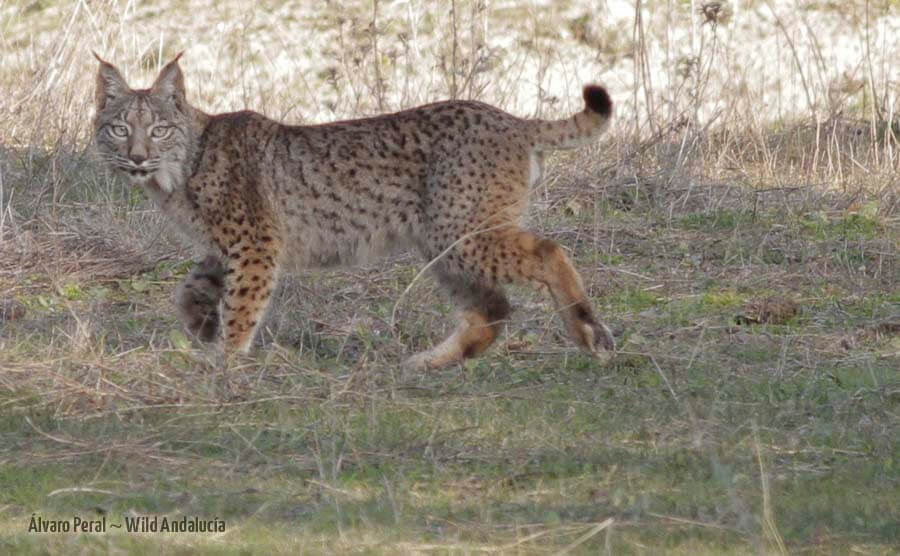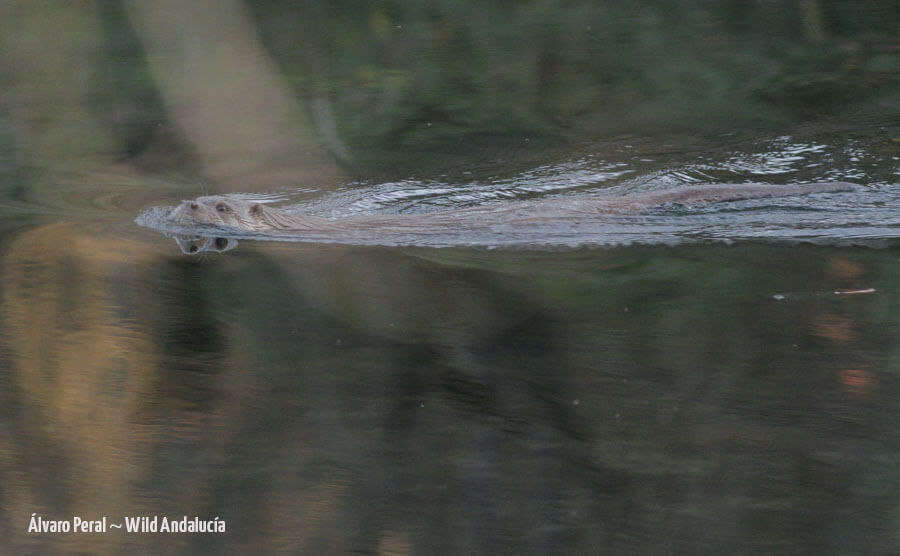 Wild Andalucía guides this wildlife tour by means of Andalucía Slow Tours, S.L., a local travel agency accredited by the Spanish Tourist Board with number CIAN 297083-2.