The Grand Morocco Birding Tour
We guide this grand tour of Morocco into the best birdwatching sites in the Atlas and the desert. Top sites as Oukaïmeden, Erg Chebbi, the Tagdilt track and Ouarzazate are visited
Our Morocco birding tour is designed for wildlife enthusiasts visiting Morocco for the first time. The tour starts at the interesting city of Marrakech. From there we will enjoy birding as we cross the mighty Atlas mountains and huge predesertic valleys towards the outstanding immensity of the Sahara desert. A fantastic combination of the best birding areas in Morocco, outstanding scenic views, amazing food and a bit of cultural immersion.
Day 1: Marrakech

Arrival into Marrakech airport and transfer to our hotel, where we'll have dinner and get ready for tomorrow
Day 2: birding across the Atlas

Today we'll enjoy birding on route as we head to Ouarzazate, crossing the Atlas mountains through the Tizi-n-Tichka pass. We'll make several stops, in which we will look for Levaillant's Green Woodpecker, Tristram's Warbler, Moussier's Redstart, African Blue Tit and African Common Chaffinch. In Ouarzazate we'll have dinner and accommodation.
Day 3: getting to the Sahara

A journey that will take us to the gate of the desert. We'll scan creeks and every green valley to look for birds on migration. The local dry masses of water (wadis) will help us add new birds to our list.
Day 4: bird desert expedition

A day to be spent in the Sahara desert looking for the local specialities. We'll try to get Desert Warbler, Desert Sparrow, Brown-necked Raven, Hoopoe Lark, Egyptian Nightjar, Cream-coloured Courser and Pharaoh Eagle Owl. Dinner and accommodation in Merzouga
Day 5: mighty valleys

Time to head to the plateau near Boumalne Dades, where we'll visit one of the top birding spots in south Morocco, the Tagdilt track. This track will hopefully allow us look for Cream-coloured Courser, Mahgreb's, Red-rumped and Desert Wheatears, Temminck's, Hoopoe and Thick-billed Lark and Trumpeter Finch.
Day 6: Boumalne de Dades

There will be several spots to go birding today, from Boumalne de Dades area toward Ouarzazate. Once near Ouarzazate we will scan the shores of the Al Mansour reservoir which will hopefully provide much more than birds! Dinner and accomodation in Ouarzazate.
Day 7: the Atlas

The journey will start with a visit to the picturesque old town of Aït-Ben-Haddou. Another further stop at the Atlas mountains will allow to see Moussier's Redstart and Tristram's Warbler. In the afternoon we will head to Marrakech, where we will stay for two nights.
Day 8: Oukaïmeden, birding high mountain

Today we will make a day-trip to the ski resort of Oukaïmeden, in the High Atlas. In this site we will be looking for mountain species such as Crimson-winged Finch, Horned Lark, Alpine and Red-billed Choughs, Moussier's Redstart, Seebohm's Wheatear and Rock Sparrow. In the afternoon we will head back to Marrakech and visit its bustling main square for dinner.
Day 9: Marrakech

After enjoying our last breakfast, we will pack and head to the airport, where the tour ends. We hope the Morocco birding tour has very much pleased you!
Dates
2-10 March 2023

24 March - 1 April 2024
Or query us for a private tour outside the dates above.

---
Prices 2023
Rates per person sharing: € 1900
Single supplement: € 250
Prices 2024
Rates per person sharing: € 1900
Single supplement: € 250
Tour party
Min. 6 - Max. 11 fellow travellers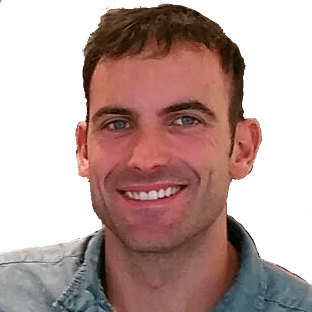 Tour leader: Álvaro Peral
What it is included
- 8 nights accommodation in nice quality hotel. En suite bathroom on most of the days
- Half board from dinner on day 1 to breakfast on day 9, meaning breakfasts and evening buffets
- All wildlife guiding by Álvaro Peral
- Ground transport in an air conditioned minibus
- 4x4 birding excursion in Merzouga desert
- Basic travel insurance. We highly recommend you to arrange your own travel insurance
- Daily birdlist and tour Roadbook
- All taxes
What it is not included
- Flights to/from Marrakech
- Lunches. We generally stop in local restaurants, an average meal costs 10 € per person per day
- Any drinks and personal costs
Target wildlife on this tour
Birds: House Bunting, Cream-coloured Courser, Crowned Sandgrouse, Spotted Sandgrouse, Levaillant's Green Woodpecker, Moussier's Redstart, Bar-tailed Lark, Desert Lark, Thick-billed Lark, Temminck's Lark, Atlas Horned Lark, Hoopoe Lark, Brown-necked Raven, Long-legged Buzzard, Barbary Falcon, Lanner, Desert Sparrow, Seebohm's Wheatear, Maghreb Wheatear, White-crowned Wheatear, Red-rumped Wheatear, Desert Wheatear, Scrub Warbler, Tristram's Warbler, African Desert Warbler, Trumpeter Finch, Pharaoh Eagle Owl, Crimson-winged Finch, Fulvous Babbler, Barbary Partridge, Laughing Dove, Blue-cheeked Bee-eater, Common Bulbul, Isabelline Warbler, Olivaceous Warbler.
Other: Moroccan Spiny-tailed Lizard, Saharan Pond Turle, Occidental Gerbil, Barbary ground squirrel.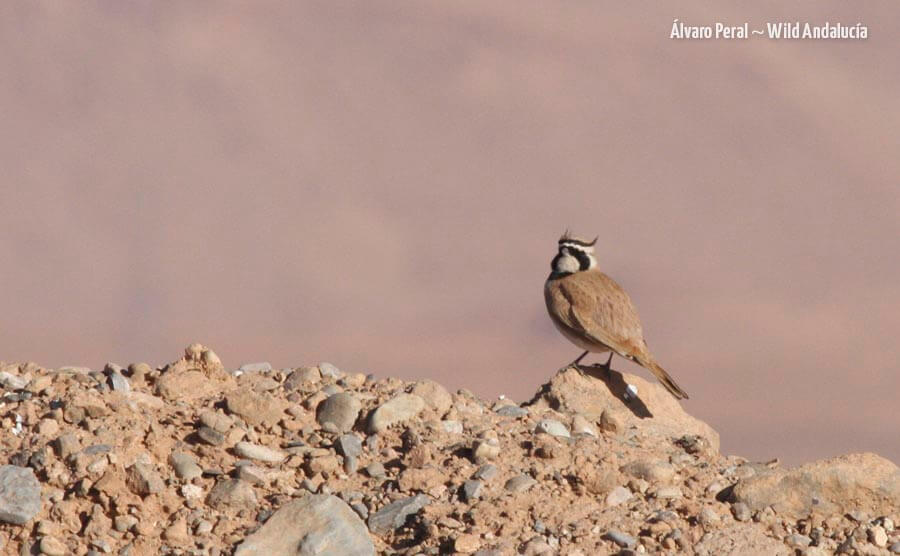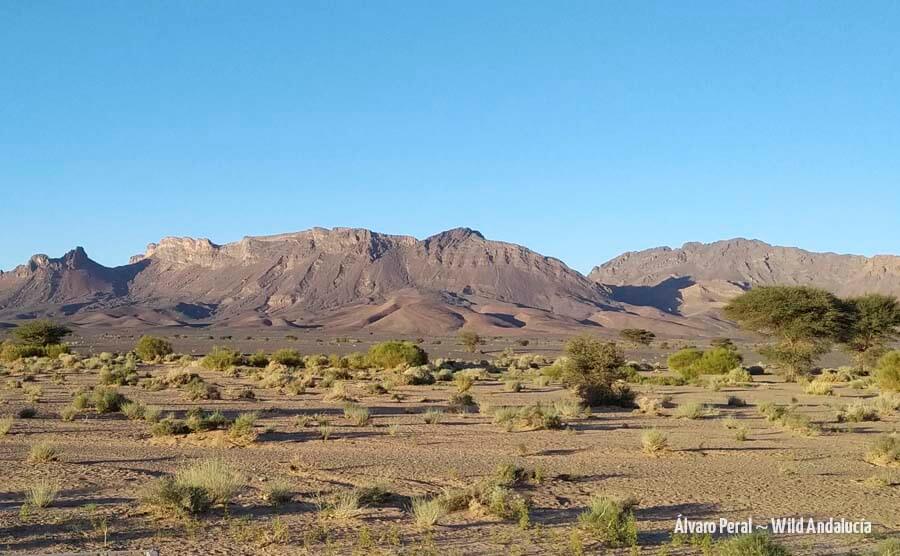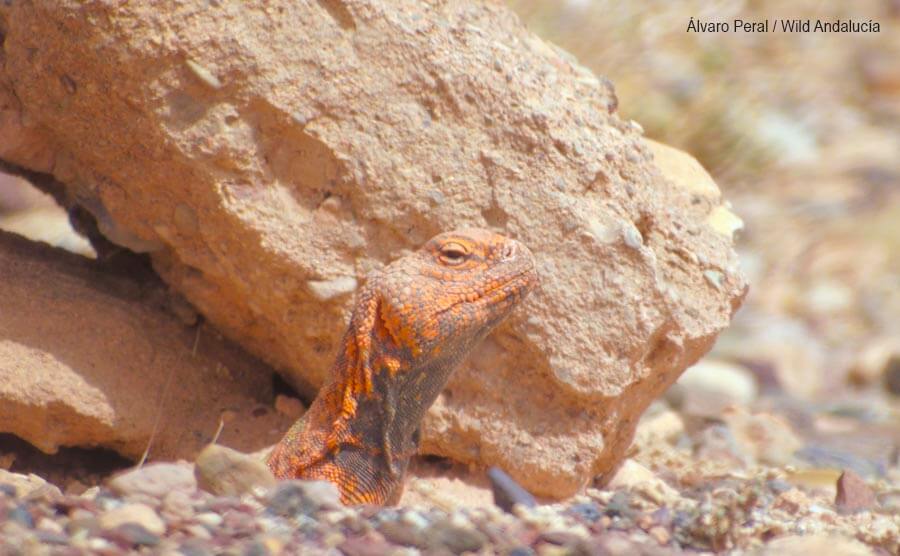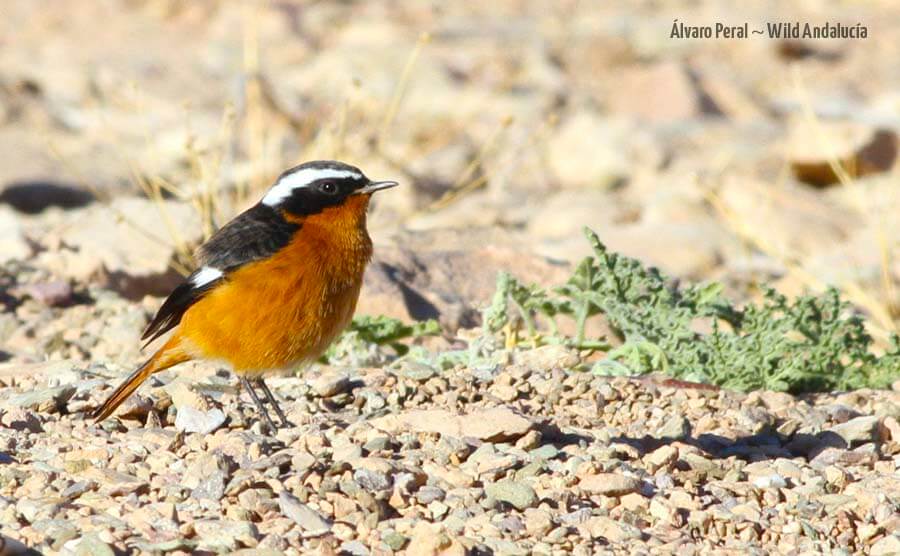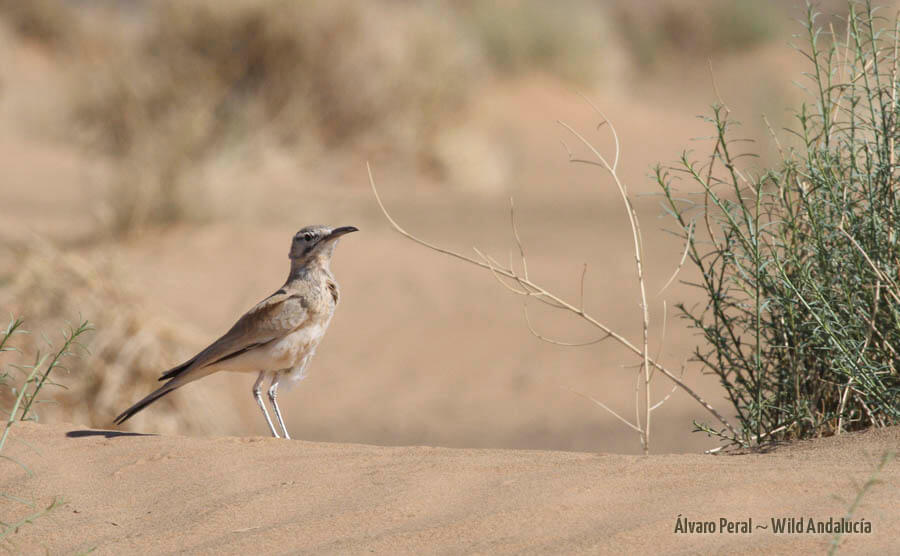 Tour pace
Our Morocco Birding Tour is a very enriching tour in many senses of the word. The birds of Morocco are the main focus in the tour but we will also allow time for other forms of Nature, for the people in Morocco and even a bit of cultural sightseeing. The walking is easy and on good paths or tracks. Be ready to find rocks and dust, you're in predesertic areas! There is just one day on which there is a long drive (5h). Most of the birding is done within a short distance of our minibus.
Food, of course
Both breakfast and dinner will be served locally at the hotel. The lunch will take place at local restaurants on most of the days, where we will enjoy its rich local gastronomy. The most typical Moroccan option in the tour is the several types of Tajini, which normally allow for a vegetarian option if needed. Moroccan bread and tea are commonly served.
Give something back to Africa
By booking our tour you are contributing to the local economy. We will be hiring a local driver. We will also help promoting the nature tourism there, which is a key to protecting Moroccan birds and habitats.
Wild Andalucía guides this wildlife tour in Morocco by means of Andalucía Slow Tours, S.L., a Spanish travel agency accredited by the Spanish Tourist Board with number CIAN 297083-2.