The Doñana birding tour
We are honoured to lead birdwatching tours to Doñana, widely considered the most important bird hotspot in Spain. Due to its strategic location between the continents of Europe and Africa and its proximity to the Strait of Gibraltar, Doñana's large expanse of salt marsh is a breeding ground as well as a transit point for thousands of European and African birds (aquatic and terrestrial), and hosts many species of migratory waterfowl during the winter. With over 260 different species of birds annually, birding in Doñana is a must for those birders visiting Spain. Doñana is so big, that we have designed a few itineraries on each day of our tours. In this way, we can explore very different areas (rice fields, lagoons, marshes, plains, scrub, forests, shore) and maximize our wildlife encounters.
BIRDING SITES IN DOÑANA
One of our first places we may go birding is the Dehesa de Abajo nature reserve, which provide great views of White Stork, Black Kites and Bee-eaters in spring and summer. The village of El Rocío offers one of the most typical pictures of Doñana, starred by the flamingos and the hermitage of El Rocío.
The visitor centre José Antonio Valverde is one of our common stopovers while birding to have a snack or coffee. The surroundings are one of the best places to find elusive birds in the area, which is by the border between the Natural and the National Parks.
The left -Southeastern- bank of the Guadalquivir river in the vecinity of Seville city is known as the Brazo del Este (Spanish for Eastern branch). It is a great site for Squacco Heron and Black Stork and a great choice to scour the rice fields around. The equivalent on the other shore is known by locals as Entremuros, another incredible site on the Natural Park, where we can find Cranes, Spanish Sparrow and Black-crowned night Heron.
Right close to El Rocío there is La Rocina visitor centre, another important bird hotspot that offers a few bird hides. Further on we find the Palacio del Acebrón, a great place to take a stroll along its bosky paths in the search of forest birds. The surroundings shores of Matalascañas offer some sand dunes of a extreme beauty and the possibility to see the most representative mediterranean gull: the Audouin's gull.
Please be aware that the restricted areas in Doñana are vast and just one company operating big busses have the permission to enter it. Extended information on Doñana National Park can be found here.
WHAT IT IS INCLUDED
Free transportation
Local bird guide: Álvaro Peral
Use of binoculars and scope
Birdguides and checklists
Accidents insurance
All taxes
WHAT IT IS EXCLUDED
Meals and drinks
Accomodation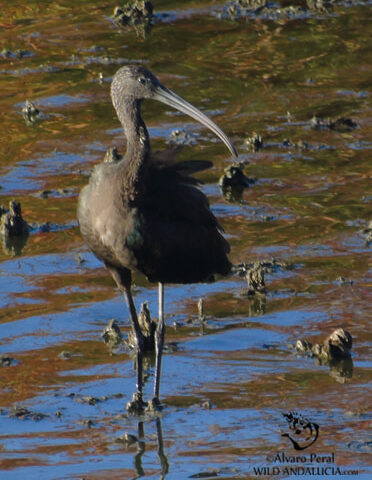 OUR FARES
Rates for one guest:
Daytrip: 300 €
Two-day guided trip: 550 €
Three-day guided trip: 750 €
* Longer tours including the Odiel marshes or the Sierra Morena mountains can be arranged upon request
Rates for two guests:
Daytrip: 175 € p.p.
Two-day guided trip: 300 € p.p.
Three-day guided trip:400 € p.p.

Rates for three to six guests:
Daytrip: 400 €.
Two-day guided trip: 220 € p.p.
Three-day guided trip: 300 € p.p.
* Larger groups by prior arrangement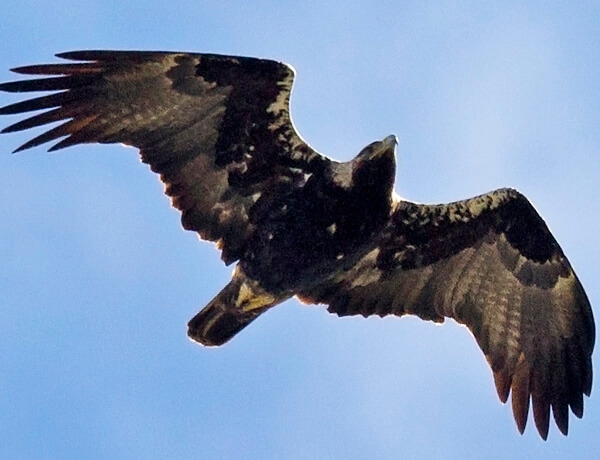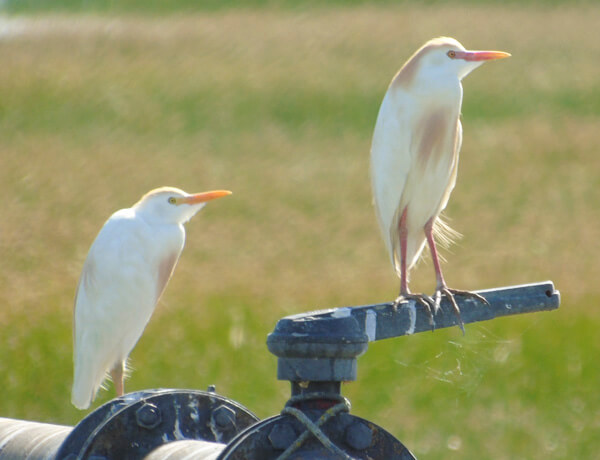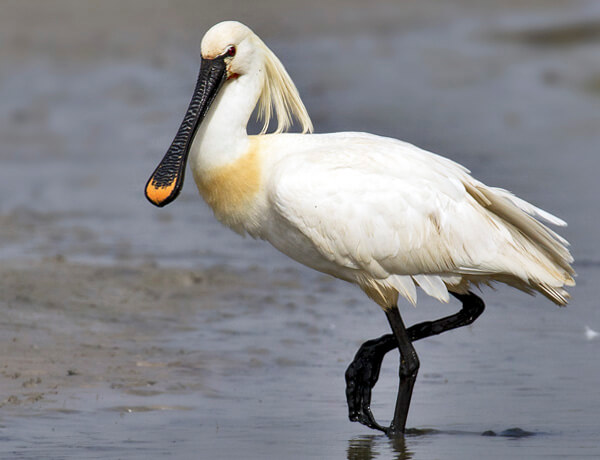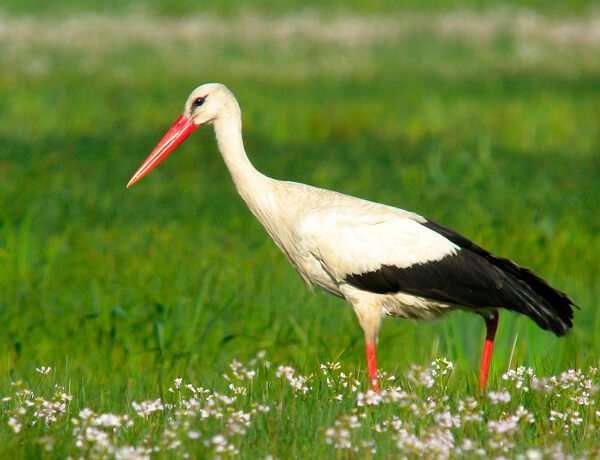 Tour ideas for Doñana

Ok, you have your target birds in mind, let us know about them on an email. And depending on their status and time of the year, we can design the best itinerary for your bird tour. Knowing where and when to go is the key to success.
2-day tour

If you have just 2 days on your mind and have never been here before, the best would be to dedicate the first day to the northern wetlands and farmlands. Sites as the Dehesa de Abajo or the José Antonio Valverde visitor center will offer us a lot of birds here. If possible, the second day should include the area around El Rocío. In here the wetlands are just beautiful and surrounded by interesting forests. On this day it is possible to enjoy walks in the wild areas of Doñana and get to know new ecosystems.
If you have already been to Doñana you may prefer us to explore new bird sites. In this case we will probably suggest visiting the Odiel marshes. This site is one of the best in Europe to see waders in winter. Gulls like Slender-billed and Audouin's can also be seen here. Another interesting site within Doñana is Brazo del Este, but we probably wouldn't add many new species to the trip list. Alternatively, the coastal area of Doñana offers good walks (longest beach in Europe!) and a small sand dune area.
3-day tour

Another option for adding birds of a different environment is visiting the mountains and dehesas of the Sierra Morena to see Monk Vulture or Spanish Eagle. Or even the Serranía de Ronda, for scenery and target birds such as Black Wheatear and Blue Rock Thrush!
Besides the many options listed above, the stepic areas near Seville are a great opportunity to see Great Bustard, the heaviest flying bird in Europe. Little Bustards and Hoopoes also live there year round, whereas Roller and White-headed Duck can be seen during the breeding season.
BEST TIME TO VISIT DOÑANA NAT PARK

Doñana in Spring
The spring is widely accepted as the best time to go birding in Spain. It is then when most of the summer visitors and residents will be very active. The landscape would simply look great and the fields covered with green and wild flowers. If you ask us, our favourite month in Doñana is April. May is great too, but it is warmer and more busy. It is in this moment of the year when we always get a surprise on our excursions, may be an early migrant, a vagrant or a rare bird! Please note that during El Rocío pilgrimage held on Pentecost weekend, El Rocío village -and roads!- will be quite busy.
Doñana in Summer
Although it will be generally too warm, summer could offer great birding opportunities if visited during early mornig (from dawn till 11) and also before dusk (from 7pm till 10pm). Summer is however the best time of the year to see and hear more specific birds such as Red-necked Nightjar, Rufous-tailed Scrub Robin and Golden Oriole. So if you can't come in April or May, try visiting in June. Early summer would be better. We don't quite recommend to go birding in Donana in July or August for high tempeartures and dry landscape.
Doñana in Autumn
Autumn can be interesting because the weather would allow longer birding ventures. Although the area would probably be more dry than any other time of the year, late August and September can produce some interesting bird sights on passage. We recommned the end of the season. Please note that the water levels could be low after a long summer.
Doñana in Winter
It is in winter when Doñana homes massive numbers of central and northern Europe birds that stay here during the coldest days of the year. Between 300,000 and 400,000 birds settle within Doñana every winter, which leads to great birding opportunities then, with the addition of a wide variety of waterfowl, passerines and wintering raptors that can be seen in great numbers. All the winter period will produce great bird watching holidays in Doñana. We love going on a tour in winter, it is then when the rice fields have a lot of waterfowl to offer, the tamarisks turn yellow and, of course, enjoy the many wintering birds!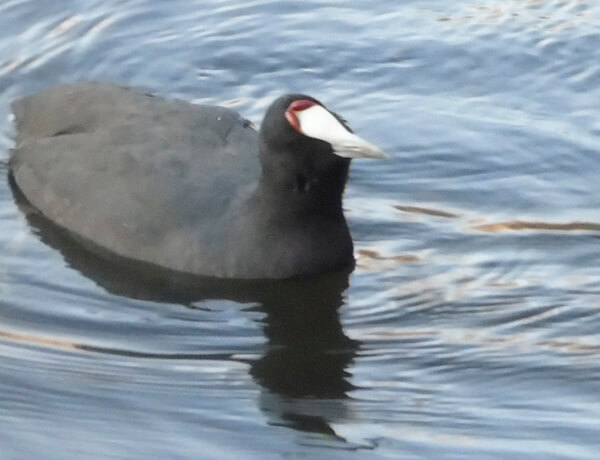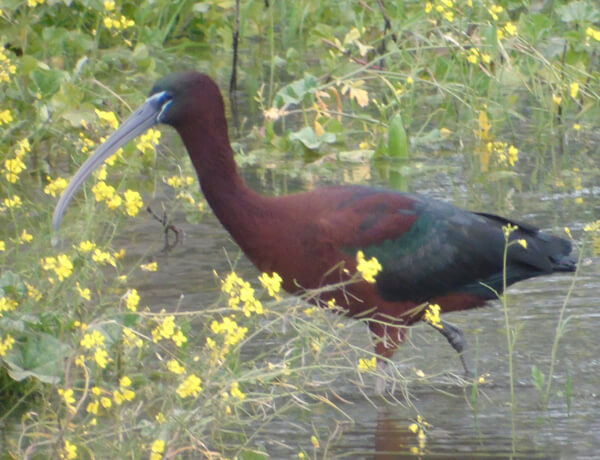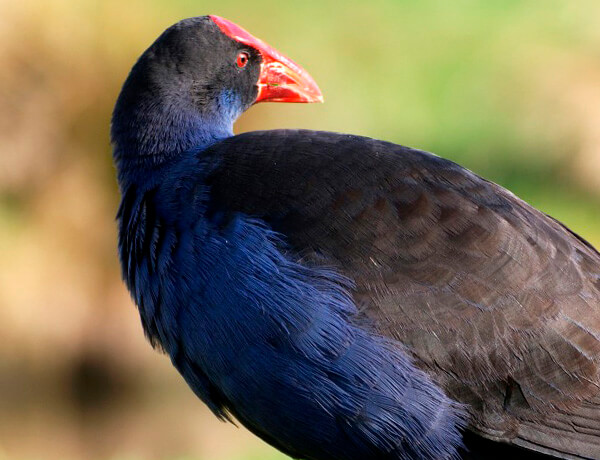 TOP BIRDS IN YOUR DOÑANA CHECKLIST

Within Doñana National and Natural Park we can find around 260 species of birds throughout the year. This is exlcliuding the rare sights. Our standard bird list of Southern Spain would be perfect when birding in Doñana. From a practical point of view, we list below the main birds that from our experience will provide more satisfactioin to our guests:
Residents: Glossy Ibis, Spoonbill, Cattle Egret, Night Heron, Flamingo, Squacco Heron, Spanish Imperial Eagle, Red-crested Pochard, Hoopoe, Red-knobbed Coot (rare), Stone Curlew, Spanish Sparrow, Lesser Short-toed Lark, Black-winged Kite, Pin-tailed Sandgrouse, White-headed Duck (rare), Marbled Duck, Penduline Tit, Bittern.
Winter birds: Greylag Goose, Pintail, Shoveler, Wigeon, Great Egret, Osprey, Hen Harrier, Short-eared Owl, Crane, Black-tailed Godwit, Black Stork.
Summer birds: Purple Heron, Bee-eater, Short-toed Lark, Little Bittern, Woodchat Shrike, Gull-billed Tern, Short-toed Eagle, Black Tern, Collared Pratincole, Roller, Isabelline Warbler, Rufous-tailed Scrub Robin.
On passage: many other birds can occasionally been seen on passage.
NOTE: there are around 80 Iberian Lynx living in Doñana, but they prefer to stay inside the no-trespassing area. Instead of here, we do Lynx Tours in Sierra Morena, where they are more likely to be seen.
Based in the Costa del Sol? Arriving from Malaga airport? Send us an email and we will help you find out the best way to arrive!
If you have a car and you only need a guide and optical material, we can also arrange those services. Please contact us.